On Thursday, Twitter began allowing certain users to post their own NFTs as their profile photo, indicating their interest in the developing digital art industry. As a result of this initiative, Twitter has become one of the most well-known technology platforms to offer a feature for the fascinating NFT fad.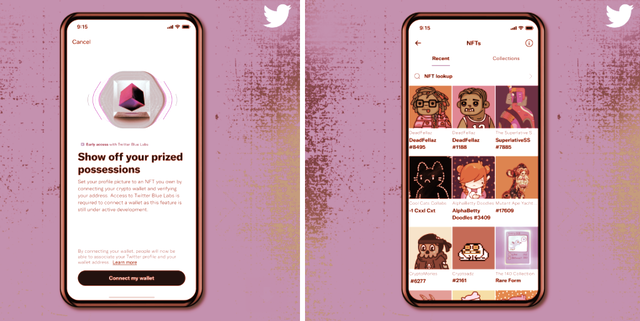 Is it a genuine Crypto Punk, or is that someone scamming people?
Twitter is hoping to give the answer, as it continues to see a surge in interest in NFTs like Crypto Punks and other digital collectibles and cryptocurrencies on its site. The social networking company unveiled a tool today that allows users to prove their ownership of a specific NFT.
Someone can link their ether wallet to their Twitter account using this feature. After that, that user can use their NFTs as Twitter profile images within a hexagonal frame, with the hexagon serving the same purpose as Twitter's blue check marks as an authenticating marker.
Without some form of verification method, a dozen people may use the same NFT in their profile images without anyone knowing who truly owns it—this is one of the disadvantages of digital art. For the time being, these verified NFTs are only available to iPhone customers who subscribe to Twitter Blue, the company's premium membership service. The feature may currently only available to Twitter Blue subscribers on iOS right now, but Twitter has informed ZDNet that Android and web will follow as the company continues build on the feature.
What Are NFT's?
Nonfungible tokens, or NFTs, are one-of-a-kind, verifiable digital valuables, frequently pieces of art, that may be traded on the blockchain, the technology that underpins cryptocurrencies such as bitcoin. While not technically new, NFTs have blossomed into a lucrative industry in the last year, with digital art pieces selling for millions of dollars and artists, celebrities, and businesses flocking to create and sell them.
In recent months, NFTs such as characters from the popular "Bored Apes" collection have been cropping up as people's Twitter avatars. The new function, which is only available to subscribers to Twitter's service, will take things a step further. It will validate someone's possession of the NFT by linking the person's digital wallet, which contains the NFTs, to their Twitter account.
How Will The Twitter NFT Artwork Appear?
On Twitter, the photographs will appear differently from conventional profile pictures. The new NFT avatars will appear as hexagons rather than circles, and users may click on them to learn more about the artwork, such as who created it and where it can be found.
How Do You Enable NFT Profile Pictures on Twitter Account?
To select their NFT of choice, users simply go to their profile picture and change their picture as they normally would. Here, there'll be the option to select NFT, which will require users to connect their supported crypto wallet to their Twitter Blue account.
The crypto wallets that are currently supported are Argent, Coinbase Wallet, Ledger Live, MetaMask, Rainbow, and Trust Wallet.
Twitter notes that they currently only supports static JPEG and PNG NFTs minted on the Ethereum blockchain (ERC-721 and ERC-1155 tokens).
According to Twitter, once live, other Twitter users can click on the NFT profile pictures to see information about the artist, their collection, provenance, and whether a project or collection has been verified by OpenSea or another third-party marketplace.
"We recognize that NFTs are a powerful monetization tool for creators and want to support those making this art by making it easier than ever for them to participate in the promise of an evolving, decentralized internet, directly on Twitter," Twitter spokesperson commented.
Needless to say, you need to connect your Twitter account to your crypto wallet and pick the non-fungible token image from there to make things work. Here's how to set up a new verified Twitter NFT profile picture:
Tap your profile picture in the Edit profile menu in the iOS Twitter app on your iPhone or iPad.
Select the choose NFT option and your crypto wallet from the list.
Confirm Twitter's verification request on your crypto wallet address.
Connect to your wallet by scanning the QR code on the screen with your crypto wallet app.
Choose from the NFT images in your crypto wallet to set it as a verified Twitter profile picture.
Twitter NFTs and Public Profile Pictures
These NFT profile pictures are the first publicly unveiled project since Twitter formed a specific unit within the company (Twitter Crypto) designed to work on incorporating blockchain tech into the business. A few months earlier, Twitter announced it would allow bitcoin in its Tips function, where users can send money to a creator on the site.
Twitter's announcement comes as social media businesses compete for a piece of the rapidly increasing NFT market. According to reports from the Information and the Financial Times, Meta Platforms is considering opening a marketplace for NFTs on Facebook and Instagram.
It's also Twitter's most recent attempt into "decentralized" technology. Twitter's founder and former CEO, Jack Dorsey, stated in July that bitcoin would be a "huge part" of the company's future. The startup introduced the possibility for consumers to tip creators using bitcoin in September. Last year, Twitter announced the formation of a cryptocurrency team to work on cryptocurrencies, blockchain, and related technologies.
For the time being, the new NFT profile images are being rolled out in stages. The functionality is only available to Twitter Blue customers in the United States, Canada, Australia, and New Zealand who use the iOS app, though the new avatars will be visible to all Twitter users on any device.
Is a Meta Vs Twitter Blockchain War Underway?
Twitter's beta testing coincides with a recent significant event that the The Financial Times published recently on Meta's plans for NFTs, which appear to be very similar to Twitter's. Meta, formerly known as Facebook, is apparently planning to create its own NFT marketplace and process for establishing NFTs, which would put it in direct competition with a bevy of existing NFT startups, the most notably of which is OpenSea.